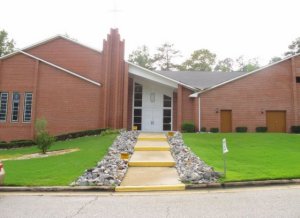 Church History
Just as Abraham was moved by faith in God to journey from what had become his home, so also Reverend Rudolph Carter Allen, Sr. step out on faith alone.
Our Beginning...
On October 26, 1980, a group of twenty Christian men and women met in the home of Reverend and Mrs. Rudolph Carter Allen, Sr., their purpose was to seek God's guidance in organizing a Missionary Baptist Church.
On November 2, 1980, a resolution establishing Revelation Missionary Baptist Church was adopted. The name Revelation is derivative of God's revealed will to Rev. Allen.
The Modern Free and Accepted Masonic Temple at 841 Fifth Avenue, Columbus, Georgia became the original place of worship. Prayer meeting and bible study convened in the members' homes.
In February of 1982, a tract of land was purchased on the corner of Bogart Drive and St. James Street.
In March of 1983, Ground Breaking Ceremony was held.
In May of 1984, construction of a multi-purpose structure began.
Sunday, April 7, 1985 (Easter Sunday), we held Easter Sunrise, baptismal, and worship services in our new facility.
The first five years, Reverend Johnny h. Flakes, Jr. and the Fourth Street Baptist Church family graciously welcomed us into a combined service for administering the Ordinance of Baptism.
Seven years later, on the fourth Sunday in June, Ground Breaking Ceremony was held for the construction of an additional building to include a church sanctuary and an office complex.
Construction began June 29, 1992.
God willed that on April 11, 1993, we would hold our first Sunrise, baptismal and worship services in our newly constructed sanctuary.On May 30, 1993 at 5:30 pm, Dedication Service for our sanctuary was held with Reverend William Smith, Pastor of Israel Baptist Church, Atlanta, Georgia's guest speaker.
Under the pastorage of Reverend Rudolph Carter Allen, Sr, the church continued for twenty-four years to meet the challenge of obedience to Jesus Christ as given in the Great Commission.
And then...
On December 10, 2004, after having relentlessly and effectively "fed" God's sheep for twenty-four years, Reverend Rudolph Carter Allen, Sr. was honored by the Revelation church family with a Grand Retirement Celebration held at the Columbus Convention and Trade Center.
And So...
On January 2, 2004, Reverend Rudolph Carter Allen, Sr. passed the mantle of leadership of Revelation Missionary Baptist Church to his daughter, Reverend Valerie Allen Thompson.
And now...
Reverend Thompson has taken the helm of this ship of Zion with humble submission and determination to do the Will of God for His Church. She says to the church, "It's not about us, it's about God."
In February of 2005, the official address of Revelation Missionary Baptist Church became 203 R. C. Allen Drive, Columbus, Georgia 31907-6102. The street was renamed in honor of Pastor Rudolph Carter Allen, Sr.
Today, November 1, 2009, we celebrate twenty-nine years of existence. Evangelistic efforts permeated with prayer without ceasing is the cornerstone of our church ministry.
Pastor Thompson's vision for Revelation Missionary Baptist Church is affecting a revived and revitalized manifestation of evangelistic efforts expressed in the Great Commandment and The Great Commission of Jesus Christ.
God has called us to a specific evangelistic outreach mission. It is that of a partnership of Christian service with the Farley Home Community of our city. Praise God for such an opportunity to be "light" and "salt" of the earth!
We, the Revelation family, journey onward, loving, hoping, praying, and striving. For our eyes remain on the prize.
To Jesus Christ, our Lord, we dedicate ourselves to follow in His footsteps.
To God be the glory! AMEN.